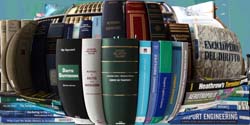 The ENAC Library, specialized in air transport, has a bibliographic patrimony of about 10 thousand documents that constitutes a prized repertoire that allows a broad look on Italian and foreign industry literature.
Particular importance is the historical section in which are collected texts , italian and not, published in the first half of the last century when the aeronautical law laid the foundations for the identification of its autonomy from maritime law. These are texts that deal with the first attempts at theorizing and systematization of aeronautics, both from the point of view of the doctrine and from the technical, scientific and operational one.
From the end of the Nineties the library started the computerization of the management procedures and published the online catalog.
From September 2011 the ENAC Library became part of the National Legal Service of the National Library Service (S.B.N.) thus allowing to search bibliographic information in the online catalog of over four thousand libraries belonging to the S.B.N. and to take advantage of the interlibrary loan service.
For further info please see contacts below
Library
Orari
The ENAC library is open to the public upon request for an appointment to be sent by e-mail to biblioteca@enac.gov.it
Indirizzo
Viale Castro Pretorio, 118
00185 Roma
Italy
How to reach us
Subway: Metro B, Castro Pretorio station
Bus: 310, 492 - Stop: San Martino della Battaglia
From  Termini train station : 10 minutes walk.
Services available
Reading and On-line text reading
Reading (on-site)
Lending